Automotive Mechanic Courses in Canada for International Students in 2023
Is it your desire to take up a course as automotive mechanic in Canada? Well, the good news is that there is a high demand of automotive mechanics in Canada with a good paycheck.
Canada is one of the best countries in the world in terms of good job opportunities like automotive mechanics. Not only that, but it is also a country blessed with various schools that are offering courses in such discipline so finding a school that offer automotive Mechanic Courses won't be daunting at all.
In this article, I have covered everything you need to know about the various automotive mechanic courses in Canada for international students.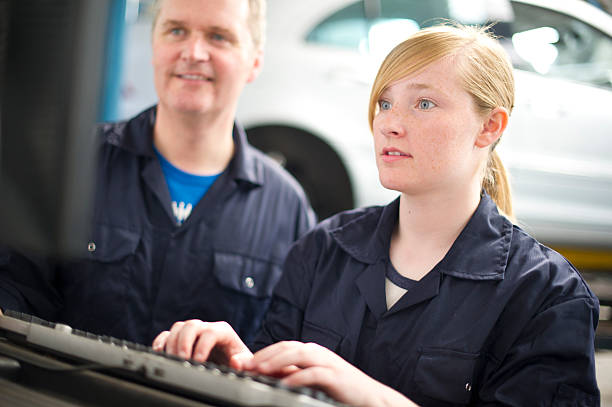 1. Master of Engineering in Mechanical Engineering- Automotive
Location: Windsor, Canada
College: University of Windsor
Duration: 1year
Entry Score: 6.5 IELTS
Fees: CA$38,400
About The Course
Graduates of the Master of Engineering – Mechanical Engineering (Automotive Option) program will be qualified for management jobs in the manufacturing and automotive industries.
After successfully completing a total of eight courses, an MEng degree may be granted (the MEng does not include a research component, a thesis, or work with a faculty supervisor). Among these eight dishes:
Students must take four courses from their department (major, mechanical)
additionally, four compulsory courses that must be taken either in the first or second semester of the program: Engineering Project Management, Engineering Technical Communications, Engineering Mathematics, and Computational Methods and Modeling for Engineering Applications.
Students must submit an application for admission to the co-op program during their first study term.
The program's objective is to give you the chance to deepen your grasp of the fundamentals of automotive engineering, with a focus on production, operation, design, materials, and basic business and management concepts.
2. Bachelor of Applied Science in Mechanical Engineering- Automation and Control
Location: Waterloo, Canada
College: University of Waterloo
Duration: 4 years
Entry Score: 6.5 IELTS
Fees: CA$252,000
About The Course
Application of natural laws and fundamental principles to the growth and advancement of a technological civilization and culture is the focus of the field of mechanical engineering. Mechanical engineering is the most diverse and inclusive engineering discipline because it covers practically everything that moves, whether it be animate or inanimate.
Mechanical engineers are involved in almost every stage of the design, synthesis, development, and fine-tuning of machines, processes, and systems in all technological fields and types of enterprises.
To do their jobs effectively, mechanical engineers must be familiar with the laws of mechanics and thermodynamics, the effects of forces on solids and liquids, the movement of heat through various materials, and the characteristics of engineering materials. Leading the way in the development of technology for sustainable development are mechanical engineers.
This course is for you if you enjoy motion. You can learn the skills necessary to create anything from switches to spacecraft at Waterloo. All facets of mechanical design—mechanics, power, control, and manufacturing—will be covered in depth. Additionally, you will gain knowledge of how to manage big, diverse teams, address issues, generate high-impact ideas, and get the opportunity to put it all to use in co-op work experiences.
It's up to you where you apply those abilities. Mechanical engineers operate in a variety of industries and are always looking for methods to improve the speed, weight, reliability, and efficiency of machines. And you have two years of relevant work experience? when you complete your studies, you? 'll undoubtedly dazzle prospective employers.
3. Diploma in Motive Power Technician- Automotive (Co-op)
Location: Hamilton, Canada
College: Niagara College
Duration: 2 years
Entry Score: 6.0 IELTS
Fees: CA$28, 100
About The Course
As an automotive-focused motive power specialist, you have the option of running your own business or working as a service technician or parts manager in a commercial dealership or car body shop.
Analyzing and resolving complicated motive system issues as well as diagnosing and fixing mechanical, electronic, and electrical motive power systems and components are examples of practical, experiential learning possibilities.
Utilize cutting-edge technology in cutting-edge labs. During a co-op work term, gain real-world experience using test tools and troubleshooting approaches to support vehicle transportation.
4. Graduate Certificate in Industrial Automation
Location: Hamilton, Canada
College: Niagara College
Duration: 1year
Entry Score: 6.5 IELTS
Fees: CA$21, 075
About the Course
You are well equipped to take on a variety of roles in the automation and control systems industries as a graduate of the Industrial Automation program. Programmable logic control, robotics, industrial networks, and project management are highlighted in the curriculum.
Obtain possibilities for practical education through Niagara College? s cutting-edge design and manufacturing facilities. Project-based learning produces highly talented, well-trained automation specialists.
5. Ontario College Diploma in Motive Power Technician – Technical (Co-op)
Location: Ottawa, Canada
College: Centennial College of Applied Arts and Technology
Duration: 2 years
Entry Score: 6.0 IELTS
Fees: CA$32,754
About the Course
The Automotive Service Technician (8226) Co-Op Diploma course, sponsored by TADA and FCA (Fiat Chrysler Automobiles), offers training for entry-level technician roles in the automotive service and repair industry.
Other facets of auto dealership business are covered in addition to the program's major concentration on automotive diagnosis and repair. Graduates of the program can acquire the vast knowledge necessary to fulfill the requirements when they enter the fast-paced environments of contemporary dealer service departments because of the program's content and delivery methods.
The program's graduates will be qualified to work as apprentice automotive service technicians. Graduates would have learned critical thinking abilities and diagnostic procedures in addition to technical training and product knowledge, which would boost their confidence in the area while also making them attractive assets to potential employers.
You will spend the first eight months of this program in class learning your craft at our excellent training facilities on the Ashton bee Campus. You will put everything you have learnt into practice over the course of the following eight months while working as a licensed trainee at a TADA or FCA partner dealership. Your final eight months of classes will be spent getting ready for a lucrative job in the automobile sector.
6. Ontario College Diploma in Automotive – Motive Power Technician [Optional Co-Op]
Location: Ottawa, Canada
College: Centennial College of Applied Arts and Technology
Duration: 2 years
Entry Score: 6.0 IELTS
Fees: CA$32,516
About the Course
If you've ever wondered how an engine or gearbox operate, the Automotive – Motive Power Technician program is for you.
The theoretical and applied Motive Power Technician courses in this vibrant and extensive offering, with a focus on motor vehicle technology, will prepare you for employment in the transportation sector. Your newfound knowledge and skills will prepare you to take on demanding roles in a number of employment prospects.
The curriculum will include material that satisfies the needs for Level 1 and Level 2 in-school apprenticeship training in accordance with Ministry and the Ontario College of Trades standards. In addition, you'll actively engage in in-depth hands-on training exercises in fully furnished contemporary transportation lab facilities.
The two levels of Automotive Service Technician apprenticeships in-school training will be credited to graduates, who will receive a Motive Power Technician diploma.
7. Ontario College Diploma in Motive Power Technician, Service and Management
Location: Kingston, Canada
College: Loyalist College of Applied Arts and Technology
Duration: 2 years
Entry Score: 6.0 IELTS
Fees: CA$28,665
About the Course
Develop skills applicable to power generation trades such as heavy equipment, small engines, marine, power sport, truck and coach, and agriculture technician in preparation for a job in the fast-paced and constantly evolving automotive industry.
In the Fall semester, this program will be offered in a hybrid format. Tradespeople that work with motive power have specialist knowledge, diagnostic skills, and business management ability. You can become a parts and counter employee with a one-year certificate.
A two-year degree gives you the practical experience needed to run a small business or franchise in addition to preparing you for a technical role. Graduates find employment with dealerships, producers, service and repair facilities, parts distributors, retail outlets, wholesalers, insurance appraisers and adjustors, and factories producing goods for the automobile industry.
Repairs, creating customer service requests, sales, client relations, parts counter service, processing warranty claims, supervision, and insurance evaluation are just a few possible tasks.
Get a practical education to get ready for this trade: In Loyalist's brand-new, cutting-edge Bay of Quinte Skills Centre, students learn by doing. Practice your abilities in a secure learning environment using actual autos and automotive parts. Learn how to manage a small business and use safe environmental practices in practice.
The annual Convention and Shine competition, Drive to Survive, Santa Claus parade, Heels on Wheels, and the Specialty Equipment Market Association (SEMA) show in Las Vegas are just a few of the extracurricular activities you can take advantage of. For the past few years, SEMA has encouraged Loyalist students to take part in its student placement program?
8. Diploma in Heavy Duty Truck Technology
Location: Vancouver, Canada
College: British Columbia Institute of Technology (BCIT)
Duration: 1 year 10 months
Entry Score: 6.0 IELTS
Fees: Not Available
About the Course
You will be prepared for an apprenticeship using the newest heavy duty truck technologies thanks to this diploma program (HDTT). Become certified at the manufacturer level while learning about and working with the transportation of the future.
Just with major firms in the sector, courses are offered in-person, online, and in-store. To ensure that you are prepared for a variety of in-demand roles and career progression prospects, this unique program combines management courses.
It is possible to obtain assistance from significant manufacturers by studying their online course materials, particular engines, and goods. Through this program, which goes above and beyond the B.C. curriculum and National Red Seal Occupational Standards, students can develop in-depth diagnostic skills. Courses covered in this program include those on electric vehicle propulsion, fuel cells, power generation, A/C motor control, and mobile refrigeration.
9. Foundation Program in Automotive Service Technician
Location: Prince George
College: College of New Caledonia
Duration: 1 year
Entry Score: 6.0 IELTS
Fees: CA$13, 075
About the Course
With this 30-week Automotive Service Technician curriculum, you may launch your automotive career. Your role as an automotive service technician will be crucial to keeping cars in good condition. This entails looking into, identifying, and fixing problems with automobiles' mechanical systems, frequently requiring the use of sophisticated computer diagnostics.
This foundation program will give you the academic background and entry-level practical skills you need to start your apprenticeship as an automotive service technician. You can take part without an employer sponsor.
In fact, gaining experience and familiarity with the trade will give you a competitive advantage when looking for an employer to hire you as their apprentice. Completing a foundation program is one of the main reasons for doing so.
You will get credit from the BC Industry Training Authority (ITA) for Level 1 technical training in Automotive Service Technician after successfully completing the foundation program and passing the Level 1 Certificate of Qualification exam.
You will be eligible to complete the work-based training hours (on-the-job training) and greater levels of apprenticeship training for your chosen trade once you have formally registered as an apprentice with ITA.
Apprenticeship programs offer a distinctive method of pursuing post-secondary education by integrating technical instruction (classroom-based learning) with on-the-job training.
This makes it possible for you to "earn while you learn," greatly lowering the need for student debt and allowing you to start establishing your career NOW rather than waiting until you have finished your school.
You will be highly employable after completing this program across a wide range of industries and places, such as: Dealerships, Specialist repair shops, Parts departments, Service writing departments, Insurance companies, and Passenger vehicle fleets, which can be as diverse as car rental, forestry, municipalities, and institutions.
Automotive services technicians can also go into company for themselves, become teachers, or extend their study to work in the field of automotive engineering and design.
10. Automotive Service Technician Foundation Training
Location: Dawson Creek, Dawson
College: Northern Lights College
Duration: 8 months
Entry Score: 5.5 IELTS
Fees: CA$11, 494
About the Course
This curriculum consists of Level 1 Apprenticeship and Foundation Trades Training. Students learn how to inspect, test, and fix the systems and parts on cars and light trucks. They will also learn how to use computerized diagnostic equipment to test, tinker with, and fix important car parts like electrical systems, steering systems, brake systems, drive trains, and engines.
They will learn how to do routine maintenance including wheel alignments, oil changes, and tune-ups, as well as disassemble and test repaired equipment against manufacturer requirements. A nationally recognized trade under the Interprovincial Red Seal program is automotive service technician.
The Automotive Service Technician Level 1 Apprenticeship can be completed with 450 work-based hours after completion of the Automotive Service Technician Foundation Program.
11. Diploma in Automotive Collision and Refinishing
Location: Vancouver, Canada
College: Vancouver Community College
Duration: 2 years
Entry Score: 5.5 IELTS
Fees: CA$36, 322
About the Course
Learn the best skills and methods for repairing damaged vehicles' bodies, refinishing, painting, and auto glass. Students who complete this program are ready to work in the automobile industry. Students gain knowledge of how to fix and/or replace automotive glass, interior, and exterior car parts, as well as how to rebuild a damaged car's structural integrity. Beyond the classes that are already part of their program, international students are not permitted to enroll in apprenticeship courses at VCC.
12. Certificate in Auto Body and Collision Technician
Location: Saint John, Canada
College: New Brunswick Community College
Duration: 1 year
Entry Score: 6.0 IELTS
Fees: CA$9,468
About the Course
In the Auto Body and Collision Technician program, you'll learn how to refinish body surfaces, fix and replace automobile glass, and fix and restore damaged motor vehicle body parts and interior finishing components.
We'll show you the basics of fiberglass repair, body filler application, welding, and priming. Additionally, you'll become an expert at using manual, electric, and compressor tools.
Additionally, you will get the chance to put your creative talents to use by designing mock-ups and working on actual customer vehicles in our fully furnished shop.
13. Certificate in Automotive Technician
Location: Brandon, Canada
College: Assiniboine Community College
Duration: 9 months
Entry Score: 6.5 IELTS
Fees: CA$17,010
About the Course
For those who love engines, one of the greatest programs available is this nine-month certificate program in automotive technology. With your dedication to vehicles and customer service, learn to excel in a shop setting.
With an emphasis on core shop skills, you will learn to maintain and repair both vehicles and light-duty trucks in this curriculum. From there, learn how to fix electrical systems, powertrains, and engines.
At our North Hill site in Brandon, in the 130,000 square foot Len Evans Centre for Trades and Technology, you will work inside of our cutting-edge automotive shop.
By the time you graduate, you'll have essential, in-demand skills that will enable you to take advantage of job opportunities at auto dealerships, repair and service centers, as well as body and component parts suppliers.
During your stay at Assiniboine, gain experience that will help you advance your career. As you meet with potential employers, you will acquire crucial on-the-job training.
Your technical education received in school may count toward your Level 1 Automotive Service Technician certification if you register as an apprentice within two years of finishing the program.
14. Certificate in Power Engineering Technician
Location: Saskatoon, Canada
College: Saskatchewan Polytechnic
Duration: 9 months
Entry Score: 6.5 IELTS
Fees: CA$16,500
About the Course
Power engineering specialists support the safe and effective operation of power facilities. Jobs are more plentiful than ever thanks to a shortage of certified technicians. You could work in the mining, manufacturing, energy, healthcare, oil patch, and other sectors.
It's a physically demanding job that calls for manual dexterity, sharp vision, problem-solving abilities, and a talent for operating machinery. The Saskatchewan Polytechnic Regina Campus, Southeast College in Estevan, Great Plains College in Swift Current, Parkland College in Yorkton, and Carlton Trail College all offer the one-year Power Engineering Technician certificate program (Humboldt).
In order to confront interprovincial Fourth-Class examinations, you will study Fourth Class interprovincial standardized material. In order to confront interprovincial Fourth-Class examinations, you will study Fourth Class interprovincial standardized material.
You will be given hands-on instruction in the use of tools, boiler maintenance methods, and boiler operation. In the practical labs, you'll practice troubleshooting techniques. In the power lab, you'll fire a boiler. And in your second term, you'll get work experience in the industry.
15. Certificate in Farrier Science
Location: Langley, Canada
College: Kwantlen Polytechnic University
Duration: 8 months
Entry Score: 6.5 IELTS
Fees: 11,849
About the Course
Students who complete this 30-week program will have the knowledge, abilities, and behaviors needed to function effectively as licensed farriers. Graduates will possess the theoretical understanding needed to comprehend how farrier can maintain and enhance horses' wellbeing and meet the demands of the horse industry.
In order to satisfy the needs of horses and horse owners in a range of equine disciplines, they will learn the necessary farrier skills in a safe, humane, and empathic manner. Graduates will get knowledge about how to communicate with customers and other professionals in the field.
By exposing students to farrier in the real world, a practicum (FARR 1140) will help students enhance their skills, and an e Portfolio (FARR 1150) will let them reflect on their classroom, shop, and field experiences while expanding their professional networks.
Frequently Asked Questions
How much do Canadian mechanics make?
In Canada, a car mechanic can expect to earn a median annual income of $59,250, or $30.38 per hour. The starting salary for an entry-level employment is $52,650 per year, and the maximum salary for a highly experienced worker is $79,950.
Is there a need for auto mechanics in Canada?
Over the period of 2019-2028, it is projected that there will be 24,200 opportunities for Heavy-duty equipment mechanics (due to expansion need and replacement demand), while 25,900 additional job seekers will be available to fill them (due to school leavers, immigration, and mobility).
What qualifications do you need to be a car mechanic Canada?
Apprenticeship programs combine classroom instruction with practical experience. To become an expert in the field of Automotive Service Technician typically takes 7,220 hours (about four years), including 6,500 hours of on-the-job training and 720 hours of classroom study.